What Does Home Insurance Cover for Water Damage?
Water is one of the most common ways for a home or property to be damaged. There are many potential sources of water damage. From municipal sewers to nearby lakes and rivers to the rain falling on your roof, it's important to understand how your home is at risk and where you're protected.
One of the most common questions that we receive from our clients is, 'Does my home insurance cover water damage from leaking pipes?' The short answer is: it depends on your specific policy and the additional coverages you have selected.
At Jeffery & Spence, our team of insurance brokers will help you select the right coverage options from a range of providers, based on the location and construction of your home. Reviewing the full information about your house, we can accurately assess its risk profile and identify what sources of water damage you will be exposed to.
In this article, we'll explain the various types of water damage and how they are handled by insurance providers. Have any questions or comments about the article? Leave a message for our team below.
The Different Types of Water Damage
There are many different ways that your home can experience water damage. From simple leaks in your plumbing to full-scale basement flooding, it is important to understand what kind of water damage is covered by standard home insurance policies and what requires additional coverage. Learn more about the various scenarios below.
Broken or Leaking Pipes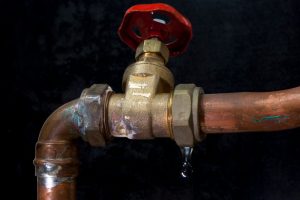 Broken pipes are the most common type of water damage and standard home insurance policies will typically provide coverage for this. However, your broken or leaking pipe must have caused a 'sudden escape of water' in your home.
If the pipe was leaking a small amount and causing gradual water damage, you may not be able to make a claim. Water damage over time may be attributed to negligence and poor maintenance on the part of the homeowner. It's important to make sure that you are checking for leaks in your plumbing on a regular basis, or your claim may be denied.
Frozen Pipes
Did you know that frozen pipes that burst during the winter do not follow the same rules as typical pipe leaks? It is important to understand the difference.
Most home policies have specific requirements if you will be away from your home for more than 4 consecutive days during the winter. In these situations, you must either shut off your water supply and drain the pipes or have someone enter and check your house daily. This is especially important for cottages or other vacation properties.
If you fail to meet these requirements, a claim for water damage from burst pipes will usually be declined. Make sure you're aware of the specific conditions of your policy, so you're not caught off-guard.
Broken or Overflowed Toilet
Similar to issues with broken or leaking pipes, if you have water damage from a toilet that overflowed, most home insurance policies will provide coverage. However, you need to be able to prove that the water damage was caused by a specific accident.
If the water damage was the result of gradual leaking or seepage, then you may find your claim is denied. Similar to leaking pipes, insurance providers can claim that you were negligent in the upkeep of your home in these situations. Make sure that your water damage is not the result of poor maintenance!
Quick Tip:

This same logic applies to other appliances that use water in your home, including dishwashers, washing machines, water heaters, water tanks, bathtubs, and more. If the water damage was caused by an accident, then you are covered. If you were negligent and did not properly maintain your appliance, then you are at fault.
Leaks in the Roof
Water can seep through your roof in a number of different ways. Depending on the cause of the leak, you may or may not be covered for the water damage.
If the water damage was caused by a sudden accident, such as a tree branch falling or shingles being blown off your roof, most standard policies will cover you. You will need to make sure that the damage was caused by a named peril.
Another risk that is often covered is ice damming. Ice damming occurs when ice builds up in the eavestrough, due to improper attic insulation or clogged drain pipes. Typically, the coverage will pay for the water damage, but not the removal of the ice dam.
The exception to the rule is when you have a long-standing leak that you have not noticed or repaired properly. As with plumbing and appliances, insurance providers can cite lack of maintenance and negligence on the part of the homeowner to deny a claim.
What's the solution? Pay attention to potential leaks in your attic and address them in a timely manner.
Water Main
For most insurance providers, your standard homeowner's policy will cover you in the event that a water main breaks near your house and causes water damage. This is important in larger cities with aging infrastructure, such as Toronto.
Water & Service Lines
Not all companies will necessarily include water and service lines as part of their standard coverage. It's important to check the details of your policy. If you live in a major city, you could be missing out on key protection.
Sewer Backup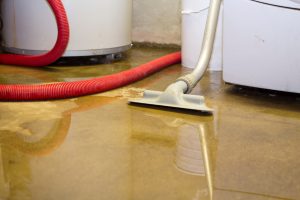 Sewer backups typically occur during periods of heavy rainfall, when the local municipal sewers are overloaded with water. Sewer backups can cause sewage and water to flood your basement, causing substantial damage to your home and your possessions.
Water damage from sewer backups is only covered if additional Sewer Backup Coverage has been added to your policy. If you're on the fence about adding this coverage, consider the following questions:
Is your house located in a low-lying area?
How dense is your neighbourhood? Does it have older infrastructure in place?
Does your area experience frequent severe weather events?
Have previous instances of sewer backups been reported by your neighbours?
Answering these questions will help you determine whether you are likely to require Sewer Backup Coverage to protect your home from water damage. Regardless of the answer, you should also consider installing a backflow prevention valve in your basement. This device will reduce the chances of sewage backflow and keep your property safe.
Overland Flood Water
Overland flooding occurs when the water level of a local stream, river, or lake rises and spills over its banks. If this water flows over dry land and into your home, then this is classified as overland flood damage.
Historically, overland flood damage has not been covered by most insurance providers in Canada. However, the recent increase in flooding events have led to changes in the industry. Some insurance providers in Ontario will now offer Overland Flood Coverage as an additional option for home insurance policies.
If you are interested in purchasing this coverage, make sure that you do your research first. Flood insurance may not be available for homes located in areas prone to flooding or homes with reverse slope driveways. For more information on your eligibility for overland flood insurance, contact your broker today.
What Does Your Home Insurance Cover?
Are you concerned that your home may not have sufficient coverage for water damage?
The first step is to contact your current insurance provider. Make sure you understand what type of coverage is included in your home insurance policy and what is missing. If you are concerned about a specific risk and it's not included in your existing policy, ask about adding coverage options to your plan.
If you're missing crucial protection for your home, our team of insurance brokers can help. As brokers, we have access to a wide range of policies from different providers and can find the right policy to meet your needs.