There are so many opportunities to enjoy your downtime on the water. Ontario has 250,000 lakes to enjoy, including potential boating spots like the Muskokas, the Kawarthas, Georgian Bay, and the Thousand Islands.
Whether you're going fishing down at the lake, visiting your cottage on the weekends, or sailing to the Caribbean, you can rest assured that the experienced team at Jeffery & Spence can help you navigate your boat insurance requirements.
Personal Watercraft Insurance Coverage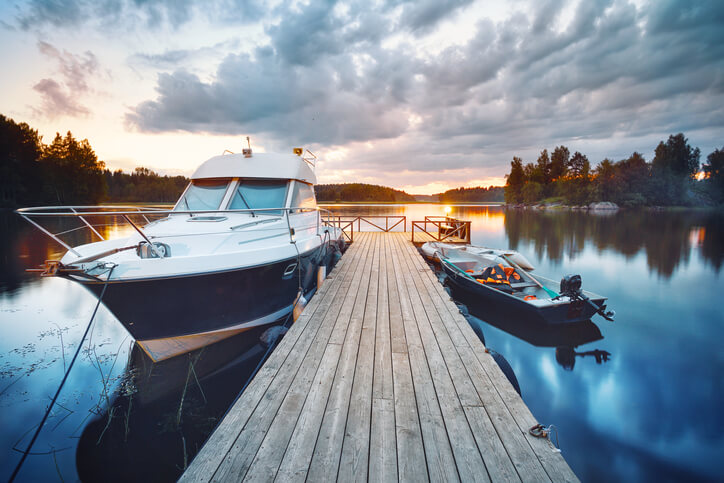 While boat insurance is not typically mandatory in Ontario, there are a number of situations where you may need to carry insurance coverage.
Insurance coverage for your boat will typically include two main components:
Liability coverage
Physical damage coverage
It is generally recommended to carry several million in liability coverage for your personal watercraft. In some cases, your marina may ask for specific liability limits, and you may need to extend your coverage to meet these requirements.
Physical damage will cover both the watercraft and its contents, which is particularly important if you own a yacht or larger motor launch. This coverage also provides boat trailer insurance and extends to physical damage incurred while trailering your boat at the end of the season.
You can also select coverage options for your boat during the winter to ensure that it's protected from theft, vandalism, and damage from snow and ice. We suggest keeping your watercraft insured year-round, as a surprisingly large percentage of claims come from damages incurred in the off-season.
Boat insurance coverage options will vary widely from provider to provider. Book a consultation to meet with our team to review your specific situation and ensure you are properly protected.
Your Boat Insurance Premiums
Your boat insurance premiums will be influenced by a variety of factors, including:
The size and horsepower of your watercraft
The total value of your watercraft
The experience and certifications of the captain
Your navigational range
Our Boat Insurance Options
We can arrange insurance for a variety of personal watercraft in Ontario, including:
Bass boat insurance
Sailboat insurance
Seadoo and jetski insurance
Pontoon boat insurance
Powerboat insurance
Wakeboarding boat insurance
Yacht insurance
And more
Most watercraft insurance policies will provide coverage for a broad navigational territory, including Canada and the Northern United States. Extended navigational coverage for the rest of the Eastern Seaboard and the Caribbean is also available.
Your insurance policy can also be customized to include coverage options for emergency towing, loss of navigational equipment, wreck removal, vermin damage, personal effects replacement, and accident benefits and medical coverage. Learn more about the various options for your watercraft insurance coverage today.
Contact the watercraft insurance experts at Jeffery & Spence today to discuss your coverage options.