If you are travelling using a recreational vehicle (RV), such as a motorhome or travel trailer, then insurance will provide you with valuable protection and peace of mind while travelling.
Coverage options vary and can include protection for the vehicle or trailer and the contents that are carried within it. There are different considerations depending on your type of vehicle and usage. The RV and travel trailer insurance experts at Jeffery & Spence will help you understand the best fit for you, your vehicle, and your lifestyle.
Enhanced Coverage for Travel Trailers, Motorhomes & Other RVs
When purchasing insurance for your travel trailer, motorhome, or RV, we recommend insuring your vehicle on a specialized policy, as opposed to a regular auto policy. Purchasing a specialized insurance policy will allow you to take advantage of enhanced coverage options for these vehicles.
Select travel trailer, motorhome, and RV policies will provide you with additional protection that would not be covered under the standard automobile insurance. Additional options can include emergency vacation expenses and theft of contents from within the motorhome. These types of coverages will provide security and peace of mind, while you're on the open road.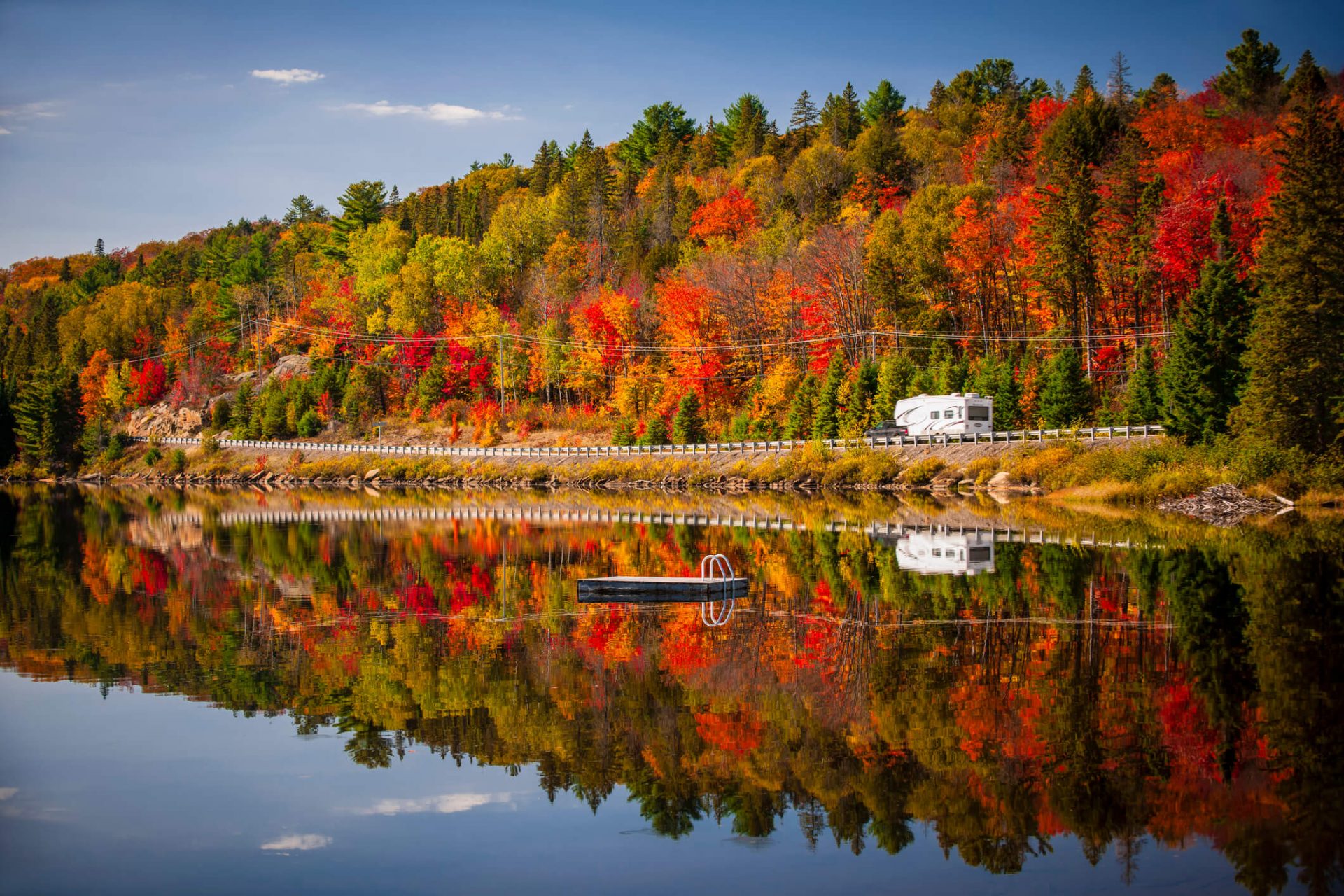 Our RV & Travel Trailer Insurance Options
There are a wide range of recreational vehicles (RVs) available on the market. More mobile, lightweight models like camper trailers or tent trailers are perfect for taking on cross-country trips to remote areas of Ontario, where you need a smaller vehicle to access campsites.
If you're looking for more luxury and comfort on the road, then motorhomes or fifth wheel trailers offer all the convenience of a mobile home with bedrooms, kitchens, and bathrooms. However, these vehicles will need large campsites and regular power hookups to operate properly.
Alternately, if you are not planning on moving and are intending to stay camped in a single site for multiple seasons, then you'll want to select a park model trailer. These trailers are difficult to move, but offer all the convenience of a cottage or secondary home at a more affordable cost.
Whatever your preference, the team at Jeffery & Spence can help you find the right fit for your RV, motorhome, or travel trailer insurance in Ontario. Whether it's parked or on the road, make sure your vehicle is protected with the right policy.
Know Your Vehicle Type
When it comes to recreational vehicles, there are a wide range of options on the market. You'll want to know exactly which of the following categories your vehicle falls into:
Class A, B, and C Motorhomes: In these vehicles, the driving area and the living/sleeping quarters will be all in one vehicle.
Travel Trailers: These vehicles will be attached to your car, van, or truck using a hitch, so the driving area and living quarters will be separate. This category includes travel trailers, fifth wheel trailers, tent trailers, and truck campers.
Park Model Trailers: These vehicles are typically towed to a motor park where they are enjoyed as vacation homes. They are stationary and do designed for use on the road.
Once you've identified the type of motorhome or trailer you own, you can start choosing the details of the policy. At Jeffery & Spence, we provide insurance for all types of RVs, motorhomes, and travel trailers, including:
Class A, B, and C Motorhomes
Travel Trailers
Camper Trailers
Tent Trailers
Fifth Wheel Trailers
Park Model Trailers
And other RVs
Coverage Options for Travel Trailer & Motorhome Insurance
Motorhomes and travel trailers operate both as vehicles and as part-time residences, so getting a standard insurance policy for a vehicle is not recommended for motorhomes. These vehicles are insured much like your personal automobile. You will want to make sure the policy you choose covers liability, accident benefits, and physical damage, as well as options such as loss of use and emergency expenses.
Some vehicles will qualify for replacement cost coverage. If you only anticipate using your motorhome for a few weeks or months out of the year, consider suspending certain coverages, like collision and accident benefits, for the rest of the year.
Coverage For Breakdowns
Not all motorhome insurance policies have the same coverage in the event of a breakdown. You will want to know that you are protected if you're on a long road trip and you breakdown far from home.
Make sure that your policy covers you while abroad, includes transportation to a garage, and that there are no limits on the size of the motorhome. You may need to return home in the event of a breakdown on the road, so you'll also want coverage for that.
Contents Coverage
Motorhomes can be like a second home and, as such, they're likely to contain a lot of other valuable items. You'll want to be sure that the insurance policy you choose includes coverage for the contents of the motorhome.
Consider Extra Security Features
You don't want to purchase the cheapest insurance policy you can find, as often these kinds of policies are lacking in coverages you really need. Instead, consider adding extra security features to your RV, like security cameras or extra locks on doors and windows.
These types of measures can help you qualify for discounts and lower your insurance rate. Keeping your motorhome in a secure location, where it's unlikely to get stolen, is also a good way to get a less expensive policy.
Contact the experts at Jeffery & Spence today to discuss your motorhome insurance coverage options.