It's always a good feeling when you can get away and enjoy some quality time at the cottage. Whether you have a cottage you use over the summer or year-round, we have a variety of insurance products to meet your needs.
Cottages are typically insured on a named perils form, meaning that they are only covered for risks such as fire, lightning, smoke, and impact by aircraft or land vehicle. Comprehensive full replacement policies may be purchased for an additional cost, depending on your unique situation.
Learn more about additional coverage options for your cottage below.
Determining Cottage Insurance Rates in Ontario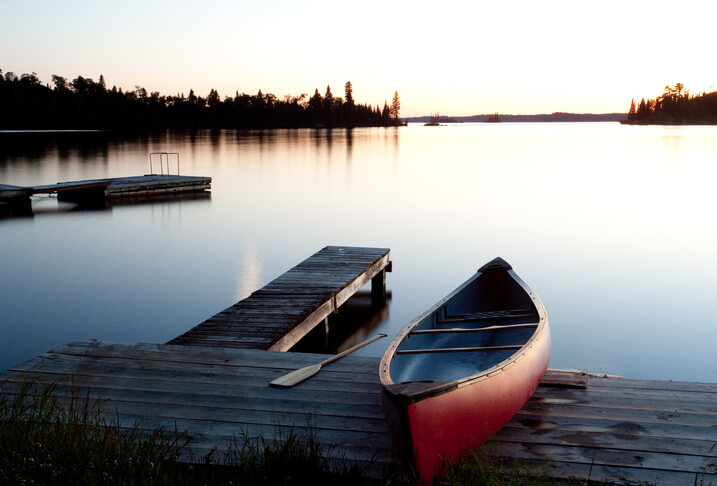 Are you wondering how insurance rates are determined for your cottage? For insurance providers, a variety of factors determine the pricing of your cottage/seasonal home including:
Whether it is on an island or boat access only.
Whether it is hydrant-protected or near a responding firehouse.
The maximum time your property is left unoccupied during the year.
The construction type, wiring, plumbing, and heating source.
There are a wide variety of insurance plans available for cottages and seasonal homes in Ontario and the team at Jeffery & Spence will help you find the best fit for your cottage.
Your Cottage Insurance Options
There are a variety of additional coverage options available for your cottage. These options can include protection from earthquakes, overland water damages, sewer backup, and much more.
Cottage Rental Insurance
If you own a cottage in a desirable location, you may decide to rent it out to visitors. While renting out your cottage is not typically covered by a standard cottage insurance policy, these coverages can be arranged through the team at Jeffery & Spence.
Cottage rentals are very popular in Ontario, and they can be a great way to supplement your primary income. If you do decide to rent your cottage, we recommend talking with our cottage insurance experts beforehand, in order to ensure that you will be properly protected.
Outbuildings Coverage
Did you know that outbuildings (e.g. a bunkie or a boat house) may not be automatically covered under your cottage insurance policy? These separate buildings on your property are not typically included in cottage insurance and will usually require separate coverage. Talk to our insurance team today to learn more about coverage for outbuildings.
Do you have a boat for fishing, transportation, or leisure at your cottage? Make sure that your personal watercraft is protected both on and off the water. If your watercraft is stored or used at the cottage, then separate liability and property damage policies need to be purchased.
Talk to the experienced team at Jeffery & Spence to navigate your watercraft insurance requirements. We can provide insurance for a range of watercraft, including powerboats, sailboats, jet skis, bass boats, pontoon boats, and more.
Seasonal Cottage Insurance
If you own a cottage in Ontario, there is a good chance that you will only use it on a seasonal basis. Many cottages in Ontario are not winterized and can only be used between Victoria Day weekend in May and Thanksgiving in October.
Seasonal dwellings come with their own risks, as they may be left unattended for long periods during the winter, which can lead to snow or ice damage, burst pipes, and more. If you're looking for year-round coverage for a seasonal cottage, you should discuss your requirements with the team at Jeffery & Spence.
Secondary Home Insurance
Do you use your cottage as a secondary home? Many people who have cottages with winter access will use them as a second home all year long. If you store some of your belongings at your cottage year-round, you should ensure that you have adequate content coverage.
Remember that if there are contents that are taken back and forth from your primary home to your cottage, they will need to be insured under your primary home insurance policy.
Our Cottage Insurance FAQs
At Jeffery & Spence Insurance, we understand you may have some questions about cottage insurance. Here are answers to some of our most frequently asked questions:
Does how often I use my cottage impact my insurance?
The main difference between your second home and your year-round home is the amount of time you spend there. As cottage owners typically only spend a small amount of time using their cottage throughout the year, this can impact the type of insurance required.
When choosing the right coverage for your cottage, there are a few key factors to keep in mind, including:
How much time you spend at your second home throughout the year
Whether your cottage is used year-round or just seasonally
Whether you rent out your cottage to others
Your insurance company will need to know the answers to these questions in order to draft an insurance policy that's right for you. Contact the team at Jeffery & Spence to learn more.
What is a named perils policy?
If you have home insurance, you likely have a comprehensive or all risk policy. However, the part-time occupation of your cottage may require a named perils policy. This kind of policy gives you coverage for specific risks, like fire, explosion, smoke damage, or water damage (excluding sewer backup or flood). Other risks like sewer backup, overland water, and vandalism may require additional, more expensive coverage as the damage may take time to be discovered.
What isn't covered under my cottage insurance?
It's important for cottage owners to be aware that there are limitations to what your cottage insurance covers.
Cottage insurance typically does not include coverage for septic backup, flooding, fuel oil release, or earth movement — however, these coverages may be arranged at an additional cost. Any damage associated with vehicles, campers, trailers, or other buildings that are located on the property are not covered under a cottage policy. Separate coverages need to be arranged for these types of risks.
You may also need to purchase third-party liability coverage to protect you if someone is hurt on your property, or if you damage a neighbour's property.
What additional coverages should I consider in my cottage insurance policy?
Cottage insurance may not be comprehensive which means that there are a few coverages you should consider adding to your insurance policy, depending on your specific needs.
Contents
Pay attention to the content coverage limit in your insurance policy. Any contents you permanently keep at your second home are covered by your cottage policy, while items you take back and forth are covered by your home insurance policy. Make sure you have adequate coverage for the items in your cottage.
Detached private structures

If you have a boathouse, detached garage, shed, or any other detached buildings on your cottage property, make sure your policy covers them adequately, and purchase additional coverage if necessary.
Watercraft
Many cottage owners also own boats, canoes, or other watercraft that are kept permanently at the cottage. Be sure to ask your insurance representative if these items are covered, or whether you need to purchase additional coverage for them.
Do I need to have home insurance in order to purchase cottage insurance?
Many insurance companies require you to have home insurance before purchasing a cottage insurance policy, and typically your insurance has to be with the same company as your cottage insurance. This differs from insurance company to insurance company and is something we will review for you.
Have a question that isn't listed?